We know it is difficult for organisations to step away from direct delivery and focus time on strategy. It is even worse if what you end up with at the end of the away-day is lots of lists on flip-charts and a feeling you loss the thread of discussions somewhere around lunchtime.
At VoluntaryWise we agree with the Chinese proverb – "One picture is worth ten thousand words", and we also know that a lot of learning occurs visually (educational research suggests over 80%!). We therefore offer facilitation for awaydays using strategic illustration, based on the work of the world leader in visual thinking – David Sibbet (www.grove.com).
Using visual material leads to better:
participation: people are more engaged when they feel listened to and acknowledged because what they said was recorded in a graphic way.
thinking: sounds simplistic but people find it easier to see connections, comparision and talk through ideas when supported by graphics (big pictures)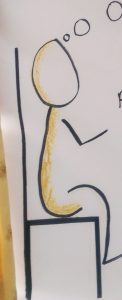 memory: people will remember strategic illustrations far longer than just discussions at an awayday..leads to more follow-up actions which can only be good.